East Lothian Community Rail Partnership worked with others in the rail industry to create a safety campaign at Musselburgh Gold Course to coincide with the US Kids Golf Tournament in Musselburgh.
Every year several hundred children under 12 attend the US Kids Golf Tournament, a major international concern, with their parents with a view to widening their golf experience in one of the UK's premier golfing areas – which includes Open Championship course Muirfield. This year Musselburgh Golf course is hosting part of the event and because the East Coast railway line cuts through the heart of the course there are major safety concerns. In particular there is an underpass from one side of the course to the other through which all contestants must pass and determined youngsters may be tempted to trespass on railway land. The eighth hole tees off within 30 yards of the adjacent line and slicing the ball could result in it landing on railway land thereby tempting retrieval.
The railway line is on a bend with limited sight of oncoming trains and regular high speed services travelling at 100mph plus.
Golf balls are from time to time hit onto the track and adjacent railway land
The golf club has an internal £1000 fine if anyone is caught retrieving a ball on railway land and this has been recently enforced against a member
Children are considered to be vulnerable to retrieving mis-hit golf balls, and especially so those from abroad where high speed railways and their dangers are less likely to be encountered at home
US Kids Golf is the leading brand of children's golf in the world and having an association with it brings substantial potential publicity
East Lothian Community Rail Partnership worked with ScotRail, British Transport Police, Network Rail and the Golf Course on a co-ordinated 'railway' safety regime for this event but which will continue permanently afterwards thereby benefitting the Golf Club and its members in the future.
The CRP provided the banners for positioning at strategic points, including the childrens' course tees and the 8th hole, where it is considered trespass is more likely, these having a hard hitting message. These will remain permanent fixtures.
There are six hard hitting messages on the banners:

DO NOT TRESPASS ON THE RAILWAY PENALTY OF £1000
DANGER OVERHEAD LIVE WIRES 25000 VOLTS
GOLF BALLS CAN BE REPLACED – YOU CAN'T
NEW GOLF BALL = £4 YOUR LIFE = PRICELESS!!!
REAL TRACKS – REAL TRAINS – REAL LIFE
IT TAKES 1.5 MILES FOR A TRAIN TO STOP!!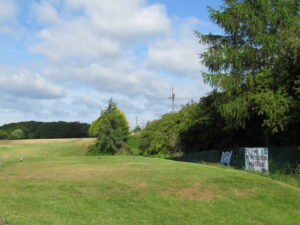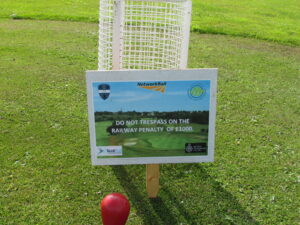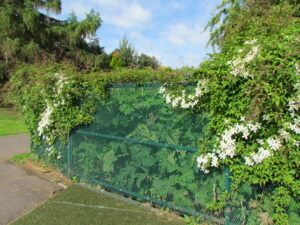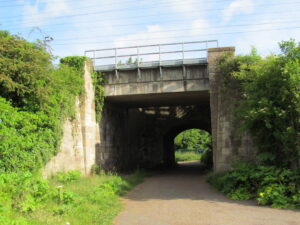 Network Rail has strengthened fencing in the relevant area of the underpass and also provided new fencing, much with clematis planting to match the beauty of the course and provide an impenetrable cover.
British Transport Police is actively involved in providing safety information to contestants and parents and advice to the Golf Club. This is to be extended, as a direct result of this project, to all other East Lothian courses with young golfers, in addition to targeting schools.
ScotRail is actively involved in publicity issues and co-ordinating the industry response.
Results
It is pleasing to record that safety was fully maintained and there were no accidents involving the railway.
The CRP has forged a strong relationship with Musselburgh Golf Club and both parties have agreed that this will continue in future years. We are shortly to be approached by another East Lothian Club to discuss extending the safety message in additional to school safety campaigns.
For future years, it is hoped to be able to apply the CRP logo on all contestants' clothing in future even if Musselburgh Golf Club is not hosting the event and this will provide increased CRP exposure and profile.
There is increased awareness of rail safety not only amongst the children, but also Golf Club members who now know how seriously this subject is taken.